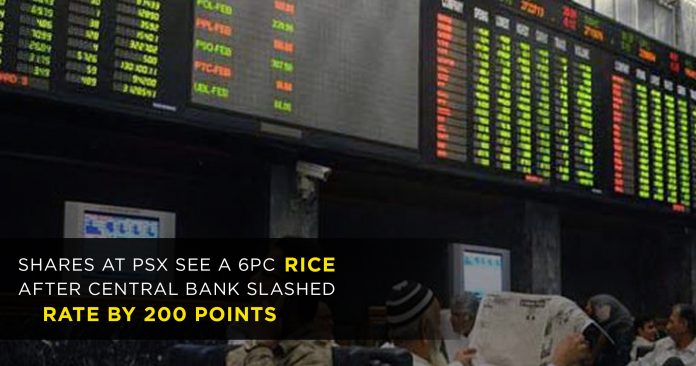 Today, trading at Pakistan Stock Exchange – PSX was halted after the benchmark KSE-100 index reached up to 1,500 points — a 5 per cent rise; it exactly happened a day after the State Bank of Pakistan (SBP) surprisingly pushed down the country's policy rate by 200 points.
In the first half of trading, the market was shot by almost 1,000 points initially (trading at 32,888– a rise of 1,559 points or 5pc), halted badly.
The trading resumed after an hour, and the market continued to increase its gains; within a couple of minutes, the benchmark was up by 6 pc or 1,905 points to 33,234.
According to Muhammad Faizan Munshy, Head of Foreign Sales at Next Capital Limited, the IMF's approval to provide $1.4 billion as a facility fund to Pakistan also fuelled bullish sentiments.
He also added that the rupee gained two per cent as loan payments deferred by international donors.
Let us remind you that SBP in an emergency meeting had reduced the country's policy rate by 200 points to nine per cent – it was the third time in less than a month. The decision was taken to reduce growth and inflation, and to ease the borrowing costs and the debt service burden of both firms and citizens, so that the financial stability can be achieved.