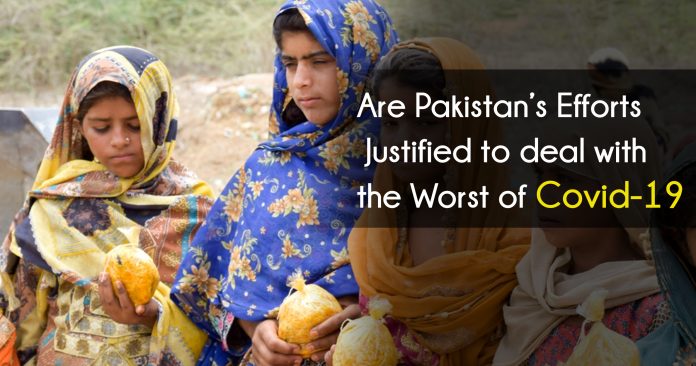 In Pakistan, the coronavirus confirmed cases reached 1800, Punjab being the highly affected before it was Sindh, but now, Punjab is surging with 682 cases; the number of deaths reported from the disease is 25 while fifty-seven patients have recovered.
March 18, 2020, was the deadliest day, as the highest number of cases in South Asia – around 243, reported in Pakistan, mostly linked to people returned from Iran.
Efforts at Federal and Provincial Level
The number of patients in Pakistan, is nowhere near the tally in Europe, the U.S., and Iran but still, by and large, our Prime Minister Imran Khan, is making enough possibilities to contain and prevent unconfined spread that, if may spread, will be disastrous for the world's fifth most-populous country which is already in a state of teetering economic conditions.
Reservations are being expressed by local and international media about the delayed measures being taken by Khan, especially his refusal to observe a national lock down. The prime minister, in his both addresses and two live press briefings, justified his decision by protecting the underprivileged sector of the economy from the fallout's of a lock down.
Numerically speaking, Khan is absolutely right – our economy is already debt-ridden and fragile, how our government feeds 220 million people for an undefined period of time? Though the situation has already posed a loss of $182 million (around 30 billion Pakistani rupees); economists believe the figure might soar to 1.3 trillion rupees if the lock down continues.
In the midst of this sensitive situation, the govt. announced a relief package of a multi-trillion rupee, allocating around 200 billion Pakistani rupees for the labor class, coupled with the instructions to the private sector of not laying off laborers. The package will offer a lump sum amount of money to some 10 million people (categorized low-income earners) for a couple of months.
Other than financial incentives, some other safety measures have also been taken on the provincial and federal level that includes temporary hospitals and isolation centers to accommodate increasing Coronavirus patients. The government has also suspended both domestic and international flight operations, restricting the possible introduction of new cases.
At the same time, the provincial governments have also imposed complete or partial lock downs – as in Punjab; there is a partial lock down for more than a week, only pharmacies, dairy shops, and bakeries are open between specific hours, while people are allowed to commute only in case of emergencies. The provincial govt. also announced additional relief packages for low-income wagers, also requisitioning the military deployment that met with criticism both at home and abroad.
International Efforts
Stepping out of the national borders, Pakistan's all-weather friend China, despite being badly hit by the coronavirus itself, doled out the much-needed medical equipment and other essential supplies at the government and provincial levels.
Reportedly, on Friday, March 27, 2020, Pakistan received tonnes of testing kits and protective gear from China to prevent the spread of coronavirus; 2 tonnes of test kits, masks, ventilators, and medical protective clothes worth Rs 67 million were handed over from the Khunjerab Pass. Meanwhile, a plane carrying 50,000 testing kits also arrived in Karachi – it was the second bulk consignment received from China's Alibaba and Jack Ma Foundation, the foundation also sent 50,000 N95 respirators and 500,000 surgical masks to Pakistan.
In the same week, Yan Chen, a director of Challenge Group of Companies from China, called Khan to donate 15,000 protection suits for Pakistani doctors and paramedical staff.And, also promised to produce the protection suit further, in Pakistan's city of Lahore, to meet the increasing demand. Pakistan will further receive 20 tonnes of medical goods and 20 ventilators from China this week. Additionally, two more planes would bring 100 tonnes of medical supplies from Chengdu and Beijing next week.
To battle the coronavirus epidemic in Pakistan and help the frontliners, a team of Chinese doctors has also arrived two days back.
Is Pakistani Society playing the due part?
Unfortunately, NO… Pakistani society is not observing the social distancing, even locked downs are not effective as there are a couple of videos getting viral of societies where people are living a normal life commuting casually without mask or any other preventive measures.
Compared to well-educated societies like the one in Japan, first of all our society is not highly educated, that's the awareness programs and related measures are not taken seriously. Secondly, the larger part of our society is living below the poverty line, for them living a livelihood and sustenance is more important than anything else, neglecting all the preventive measures of COVID-19.
Then comes the other sector of our society who are educated, privileged, but consider themselves larger than law, those are also not observing social distancing and other measures seriously.
Experts are worried, if this continues then nobody can stop Pakistan from becoming Italy or the U.S. where thousands of people are infected and hundreds are dying every day, even though they are known to be highly educated, well-mannered, developed, and civilized societies.
However, the Pakistani government, along with some international support, is struggling hard to face the daunting challenge by providing both financial and administrative support.
It's a request to all Pakistanis to take all the precautionary measures seriously and observe strict SOCIAL DISTANCING.