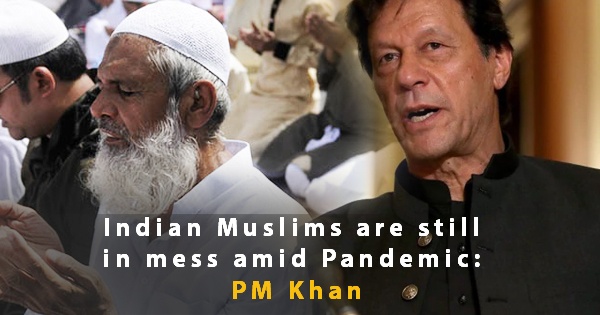 Prime Minister Imran Khan said that Indian Prime Minister Narendra Modi's government is violently yet deliberately targeting Indian Muslims to divert the backlash of its policy on Coronavirus.
In a tweet, Khan said the Modi government's policy on coronavirus is the reason behind thousands of stranded and hungry Muslims in India.
"The deliberate & violent targeting of Muslims in India by Modi Govt to divert the backlash over its COVID19 policy, which has left thousands stranded & hungry, is akin to what Nazis did to Jews in Germany," PM Imran Khan.
He supported his argument with the racist Hindutva supremacist ideology that the Modi government is following.
Meanwhile, President Arif Alvi, talking about the Muslim-majority region of the Indian-occupied Kashmir, he said that there is only one doctor for every 3,900 people, one ventilator for every 71,000 people, and one armed soldier for every nine people.
Even the Organization of Islamic Cooperation (OIC) also condemned the increasing violence against Muslims in India, and urged the New Delhi government to stop the Islamophobia campaign maligning Muslims for the spread of COVID-19.
The commission said that the Indian government should take urgent steps to contain the growing Islamophobia in India to protect the rights of its persecuted Muslim minority as it's the India's obligations under international human rights law.
Reportedly, extremist Hindus in India are using the virus as their weapon and defaming Muslims, objectifying that they are plotting against the country and targeting them.
In February 2020, more than 54 people were killed during anti-Muslims riots.