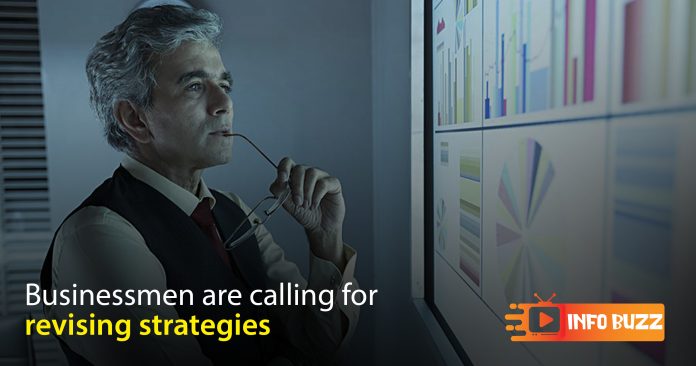 Business leaders of different economic sectors are called for revising business strategies due to extended lock down. Holding business activities, while allowing limited yet closely-monitored industrial and trade activities, are the efforts taken by federal and provincial governments to contain the spread of COVID-19.
According to the business leaders, the revision will provide extended space for employees to cultivate the sources of livelihood and avert the loss of exports. According to the theme, mismanaged and unsystematic lock down in Karachi may cause starvation among a large chunk of industrial workers as industrialists refuse to support their workers anymore due to halted industrial and trade activity.
Responding to APP, they underlined the request to channelize the funds that are contributed by around 16,000 to 17,000 Karachi-based industries, collected by the Employees Old-Age Benefits Institution (EOBI), Sindh Employees Social Security Institution (SESSI), and Workers Welfare Fund to support registered workers in this difficult situation.
They outlined that the exporters and industrialists would abide by all the measures recommended by the World Health Organization (WHO) to control the spread of the pandemic and would also implement the Standard Operating Procedures (SOPs) that are devised by the Sindh government for respective industries and other businesses.
They discouraged the fact that the Sindh government is taking decisions related to COVID-19 on its own without taking their input, and of the industrial and trade community. Resultant, this information loop is creating serious economic problems, including cancellation of export orders due to delays and the non-sustainability of workers' livelihood.
The business leaders also complained about the sudden decision of lock down, due to which a huge inventory of raw material, especially for textile units, and of semi-finished goods finished. The committee also informed that the SITE Association had set up a response team to offer medical facilities and to distribute, specifically for the industrial workers, at their doorsteps.
If foreign buyer will go then it will cause a big dent in the economy in terms of forex and balance of trade; recapturing the new and/or lost clientele would take years. Resuming shipments is the only way to prevent the rising fears of the export shortfall.