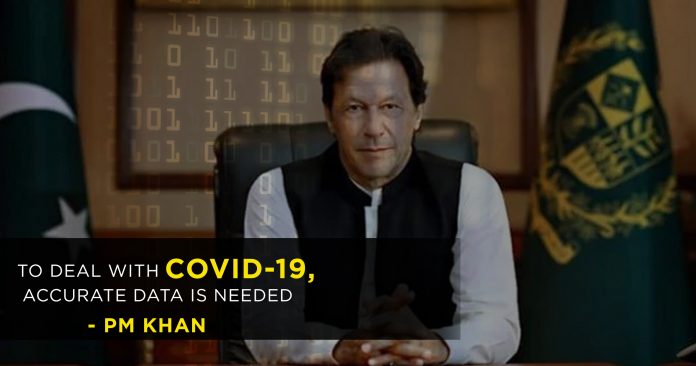 In order to take preventive yet realistic measures to combat COVID-19, decision makers need accurate data, Prime Min­ister Imran Khan said at a meeting of the National Command and Operation Centre while reviewing measures to cope with the outbreak of the diseases during the month of Ramazan.
The meeting also dealt with the quarantine facilities in all big cities of the country to treat Covid-19 patients.
The prime minister was concerned over this matter due to the media reports that showed that a few hundred people have died in a hospital located in Karachi in the last week, whereas, a recent statement by the Edhi Welfare Trust revealed that they have received more than 300 bodies over the last 2 weeks. So to have accurate numbers and bring all the decision makers on the same page, the PM ordered compilation of accurate data about the number of patients and the deaths.
The prime minister said that the respective authorities must know the area-wise spread of the disease so that doctors, policy-makers, and care-givers could be divided sufficiently and can assess the magnitude of the situation and then take the preventive measures
Mr Khan also directed the authorities to build a facility of a 250-bed quarantine centre in every major city.
The prime minister expressed satisfaction regarding resuming some low-risk businesses, but at the same time, advised the nation to stick with precautionary measures.
He also showed concern for people in remote areas, and stressed the need for launching an awareness program about preventive steps they should take to deal with Covid-19.
Mr Khan also briefed a plan for educating the public about precautions to be taken while attending congregational prayers in the month of Ramazan.